To be comfortable in one's own skin, literally! Not too dry, not too oily, just the right balance. Nourishing the skin is that, and more. It's also a sensory experience. Essential oils, having a smaller molecular weight, tend to be absorbed more readily than carrier oils. How much varies greatly person to person, and the particular essential oil being used. The variables are so many that this question has no finite answer! Often, what will direct the choice of essential oil in a massage or single yoga session, will be the mood of the client, and what speaks to the individual that day. What's more, Rita delights in creating various artisan Body Washes and Skin Nourishment Creams throughout the year.
Body Washes & Skin Nourishment Creams according to the bidding of the season
The Winterfelt line, an enchanting blend of  revitalizing Black Spruce, uplifting Sweet Orange, inspiring Balsam Fir, and the  soothing, grounding effects of Sandalwood.
Winterfelt Body Wash is an exciting no soap formula, used sparingly in the shower. Pat skin dry and apply Winterfelt Skin Nourishment Cream.  
For an extra layer of moisture, massage Winterfelt Body Wash, leave on and then apply Winterfelt Skin Nourishment cream.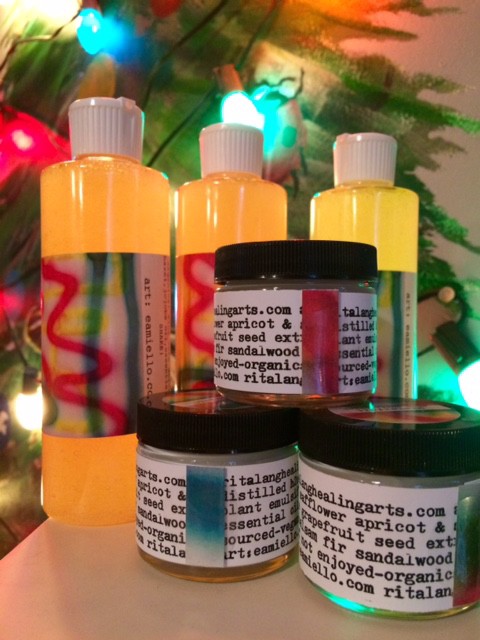 Body Wash can also be used as a quick, no rinse wash-up on a wash cloth!
                                'Tis the Season of Winterfelt!
Contact Rita to order, or for local retailers.
Label artwork by André Eamiello @ http://eamiello.com
Organically sourced-Vegan-Only human testing
Avoid use if not enjoyed