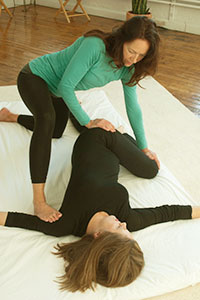 Rita employs a multi-disciplinary approach to massage that has evolved over the past dozen years. She provides an active, holistic response to the needs of each client. These needs not only vary client to client, but may also differ session to session for the same person.
Perhaps a customary table massage comprised of Swedish, Deep Tissue, Trigger Point, and Shiatsu will be the best choice. Or, you might like exploring the invigorating work of Traditional Thai Massage; encouraging joint mobilization, the opening of Sen lines, and the full stretch of each muscle. Your body work sessions will shift and change as you do, bringing about a deep sense of well being and vitality.
Rates:
60 min. – $85
90 min. – $120
Location:

315 Peck St.
Building 3 – Suite L
New Haven, CT 06513
Contact Rita to schedule an appointment.
CT Lic# 002479